Berkeley Is Just So Fuckin' Weird!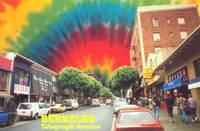 I guess it's just a slow news day in South Dakota. You know you are on the low rung of the newspaper totem pole when you have to write an op/ed piece about how strange Berkeley is. I guess that living so close to this spiritual vortex has dulled it's image to me. Also, I spent quite some time living on the streets in Berkeley. But I can't see the merit in wasting valuable print pages to it's many mysteries for a bunch of assholes living in South Dakota. Not saying that all people who live in South Dakota are assholes, just the ones who read.

Long story short: there is nothing to see in Berkeley. Unless you are amazed at watching winos piss on public buildings or are in the market for crappy tie-dyes, just stay at home and watch an old episode of That 70's Show. All that being said, I still think it is a city with one of the prettiest views of all.