Prison Mistreatment Is Nothing New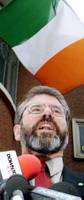 Gerry Adams has decided to regale us with his fond memories of RUC detainment. The president of Sinn Fein and MP for Belfast West claims similar mistreatment at the hands of the military-style police force in Northern Ireland years and years before the Abu Gharib scandal. Punches in the nuts and other psychological torture were apparently served to this leader of the political arm to the IRA a couple of times in the past. Adams states that the British Army were well adept at meting out punishment to those they felt were instigating unrest in the shaky region, not just leaving it at physical abuse. There were also periods of psychological abuse, as well.

While this may seem harsh, we must also look at this from the British viewpoint. The IRA were systematically killing and injuring many British civilians who lived in Northern Ireland. And terrorists rarely respond to a firm "stop that!" While I tend to side with the IRA on some of their points, they must also take responsibility for what they have done. Sinn Fein was not established at the time when Adams was captured and mistreated, so we must assume that he was hanging out with a crew of people with British blood on their hands. I'm not saying that the treatment was justified if true, because it wasn't, but you have to consider the consequences of your own actions.

While the prisoner abuse was disturbing and wrong, the soldiers there had too often seen their comrades killed at the hands of terrorists and insurgents. Feelings of revenge can cloud one's judgment. While you may feel like you are on holy high ground with your convictions, so did Jesus, and look where that got him.

Right now this story is just a bunch of unsubstantiated claims. I will no longer stick my neck out and claim that such accusations are God's truth. But, if Adams can back up these statements, it certainly makes the British RUC seem every bit as cruel as our own troops in times of terrorist threats. And that makes what happened at Abu Gharib okay.

No, wait...